IM Alumni Day 2022
COVERING BLIND SPOTS
Alumni lectures Tuesday November 8th
The Alumni Society at the Department of Informatics and Media
How does gaming expand cultural heritage?
Lina Eklund, associate professor at the Department of Informatics and Media, Uppsala University, and section leader for the Human-Computer Interaction unit.
Lina Eklund's research focuses on the impact of technology into intimate spheres of life such
as social relations, family, and reproduction. She works in inter-disciplinary collaborations
and believes that it takes interdisciplinary approaches to understand how new technologies
impact everyday life and solve social problems.
In her presentation she will talk about how the digital technology based pastime of video
gaming is moving from popular culture into cultural heritage and what that means for the
digital artefacts of games themselves.
How does public service expand the focus on local news?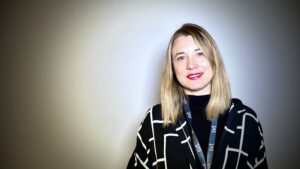 Karin Thornberg, Managing editor, SVT News Västmanland
Karin Thornberg has been in local news for 22 years, working at local newspapers, Swedish
radio, and in Swedish television (SVT). Mostly she has been a reporter, mainly in
investigative journalism, and during the last ten years worked as news editor and managing
editor. She finished her studies in journalism at the Department of Informatics and Media in
2000.
Karin Thornberg works in Västerås, and is responsible for the local office and its two editors
and nine reporters. She has the legal responsibility for all that SVT Västmanland publishes
within Västmanland. A relatively new office is opened in Fagersta, about 60 kilometers from
Västerås. In her presentation she will talk about that office, and why SVT is interested in
investing so much in a place like Fagersta with only 13 000 inhabitants.
Attendance
The lectures takes place in Lecture Hall 2 at Ekonomikum and online in Zoom, 18:15 – 19:30.
Two sorts of sandwich-layer cakes will be served afterwards at Restaurang Humlan:
Sandwich-layer cake with salmon, tuna fish and shrimps
Lactose free vegetarian sandwich-layer cake
Free entry, but pre-registration is required before 31th of October.
To attend in person register in this form.
You can find the Zoom-link here.
If you have any other food preferences/allergies please specify those when you register.
For attendance at Visby, please email your first name, surname, email address and dietary needs to Millan Lundgren (millan.lundgren@im.uu.se).